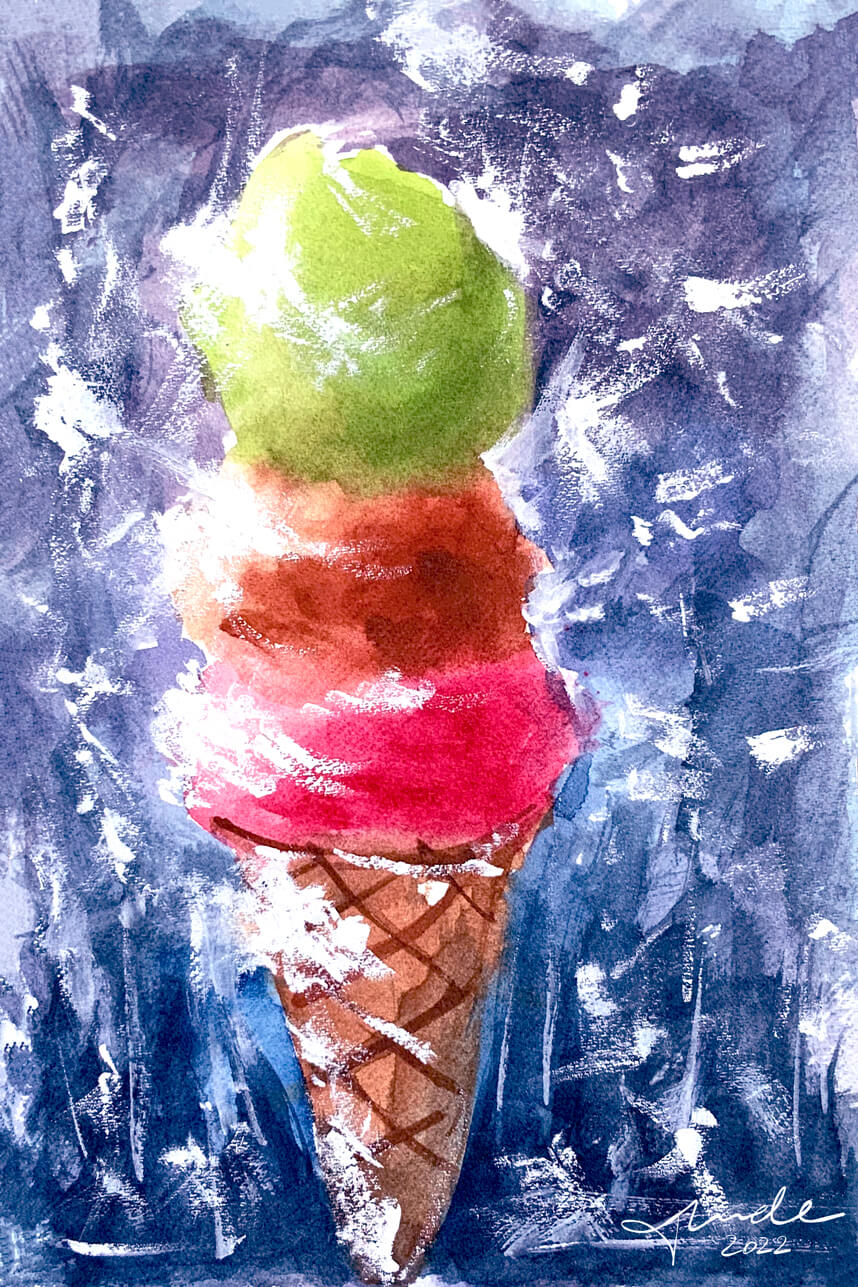 Skillshare Class: Watercolour Workout – Basics and Beyond by Robert Joyner.
This is a comprehensive course about watercolour, it took me 2 months to finish it. It's a well-packed class recommended for enthusiastic beginners or experienced artists who wish to step outside their comfort zone. It's built up gradually, which helped me understand and learn many things about watercolour, drawing, and painting. The subjects are versatile, and it never gets boring. The most I liked those moments when I looked at my creations, very surprised and full of joy. Sometimes it was hard to believe that it was my work, especially since I never thought I could draw a chair, car or horse.
Robert is an excellent teacher; he has the extraordinary skill of explaining everything in detail so the student can understand the why's of the whole process. It was definitely a journey, and it helped me build some artistic confidence for my beginner level.
Introduction to the World of Watercolour
It all began with learning about basic watercolour painting principles, like using water and paint ratio, understanding values and forms, or blending colours. It continued to put all these into practice through fun, easy to follow exercises. I practised stroke speed with different brushes, tested paper types, and played with wet and dry layers to create expressive landscapes. The first real aha moment was when I painted silverware with a few brushstrokes only.
Light on Form and Drawing with the Brush
This was my first time drawing with a brush, and I was surprised by how smooth it can be if I use the right brush. Through these exercises, I had a chance to test some of my unusual brushes, like the dagger, rigger or sword brush. Painting barns and chairs with different lighting were great to understand how the values work.
Mini Projects to Stay Motivated
At halfway through the class, these mini-projects were great for showing me how far I came from the beginning. I was surprised by my progress and the outcome of these little projects. These could be framed and used for room decorations or as a gift. I love the energy of the horse painting and the playfulness of the fish painting.
Flowers and Still Life Painting
I enjoyed the flowers theme because I could finally go loose without thinking too much about the outcome. Still life painting was really testing my artistic skills. I always thought it was complicated and only experienced artists could do it well. I was totally wrong. It was very enjoyable, and gradually I started to build confidence when I looked at the outcome. It was the perfect theme to wrap up the whole class.
I took this course on Skillshare, but if you don't have a Skillshare account and fancy taking this class, you can do it on Robert Joyner's website. Have fun experimenting!