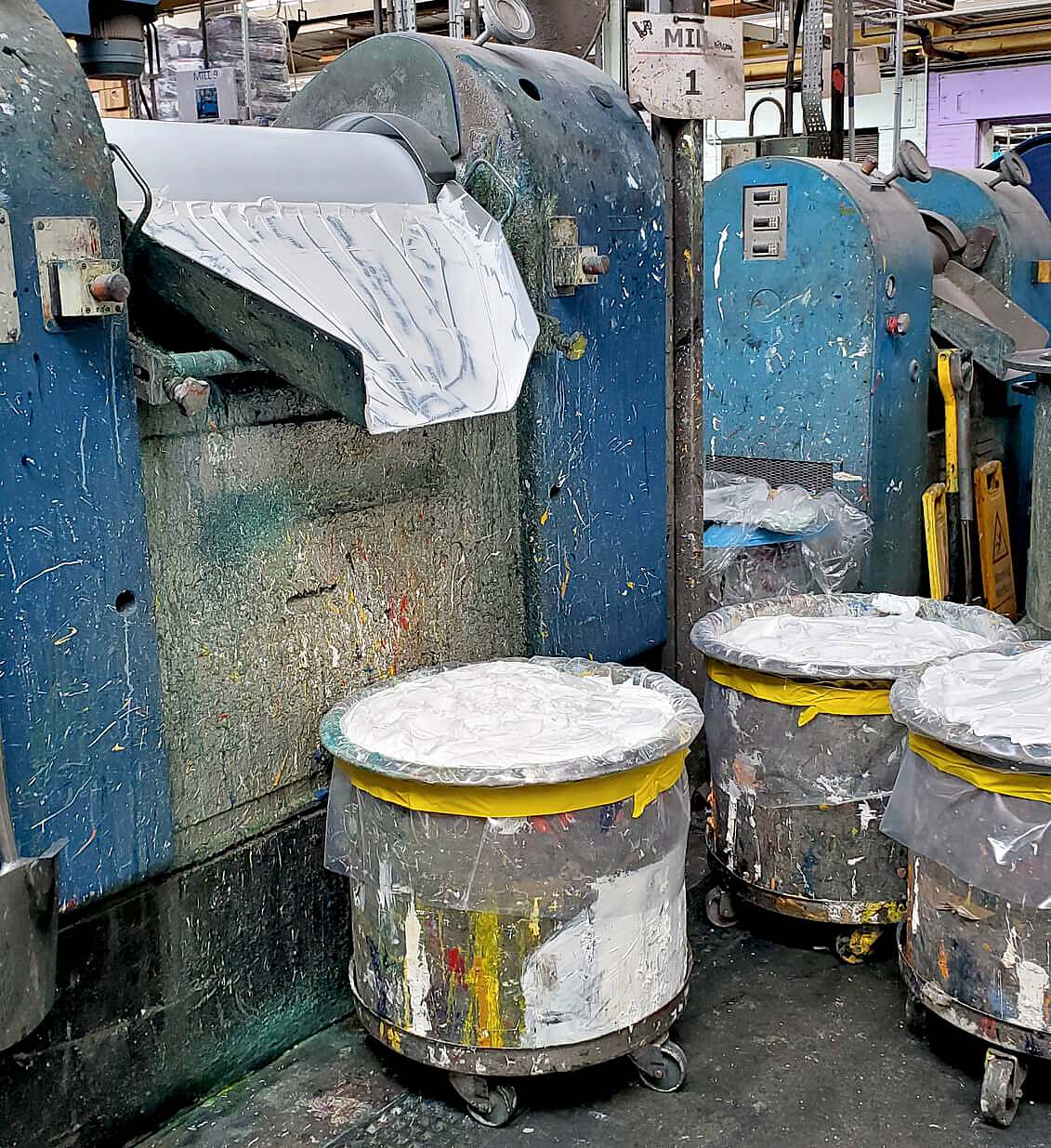 I visited the production facility of one of the art materials manufacturers in the UK. I still don't know how it happened, but I can share how one of the most amazing experiences of my artistic journey went.
Sometimes I do things that don't seem real or possible at that moment. But then I just do it anyway, and I hope for the best outcome. I did the same with signing up for the Daler-Rowney factory visit. When I saw their announcement about the event, I thought that: Hmm, this seems really interesting, why not give it a chance. So I emailed them that I was interested in this opportunity, and then I kind of forgot about it as I went on with my life. Days later, on a Monday morning, I got an email from Daler-Rowney that I was selected to visit their factory in Bracknell, Berkshire. My first reaction was to turn it down. Why should I go there, I'm not even a full-time artist. But then when my brain really woke up, I realised that this might be a once-in-a-lifetime experience, and it would be a shame if I would miss it. After sending back my confirmation email, I still had a million questions, like Why me? How is this possible? There will be really only 10 lucky artists? I use only some brushes from Daler-Rowney, would that be an issue? And how will I get there in time in the morning, without a car? So many questions. The answers always find their way, we just need to be open to them. Long story short: I managed to get there in time by arriving a day earlier, and staying overnight in a nearby hotel. I was thinking that it's a worthwhile investment to experience something that many other artists are just dreaming of: to see in real-time how some of the art supplies are produced at the Daler-Rowney factory.
Lost in History
I hadn't even entered the shop floor yet, and I was already amazed by their collection of historic products on display at the main reception. I always liked to admire art-related exhibits from the old times. It was fascinating to see the old packaging, the little colourful jars with pigments and the wooden watercolour boxes, while we were given a short introduction into the company's history. We learned that during World War II the factory, that time in London, got seriously damaged as a result of bombings. They had to move in temporarily into the competitor Winsor & Newton's factory and continue the production from there for a while. It's a sad but also heart-warming story, which reflects how different things were going back then.
Making Paint
Being still immersed in the history, our tour went on, and we stepped right into the factory. We started from the very beginning of the paint-making process: the pigments. Imagine huge paper sacks containing the main ingredient of your favourite colour. Powder pigments come from different suppliers and locations, and some are more special than others. At some point, when they did the stocktake, one of the most expensive pigments was just 3 grams short. The finance department had to jump in and investigate it. Serious business.
Oil paints are not my thing at all, but it was fascinating to observe how the paint was loaded into the roller mills by hand and came off the mill on the other side. Milling can take hours or even days, depending on the pigment's texture. After the paint has gone through the mill, it waits in giant containers to be tested by Steve, the quality controller (we will come back to him and his role later). He makes sure that the paint meets their high standards. If not, he sends it back to be milled again. Sometimes for a whole extra day.
Bottles and Labels
We also got a sneak peek into how the acrylic ink ends up in those cute little bottles. After filling the bottles with paint, they put a cap on them by hand, which is fastened in place by a machine. Further on the line, the bottles get their labels, and they are ready to be packed for the warehouse. A pretty seamless process.
Speaking of labels: have you ever wondered how the labels of your paint tubes are stored? I can understand if your answer is no. I didn't think about this either, but I was amazed when we were accompanied in a big room full of labels, from the floor up to the ceiling. They are sensibly categorised, so when the workers enter the area can find right away what they need.
Paper and Sustainability
Besides making painting supplies, the factory deals with paper as well. I'm sure you're familiar with the mesmerising smell of fresh paper. Now imagine that smell a million times stronger. This is how it was in the paper section, and I loved it. The paper itself isn't produced in the factory. They get it from other suppliers in big rolls. These giant rolls, sometimes the height of a human, are stored in a huge room in different sizes and colours. From here they end up being cut into different sizes of sheets, which are turned into pads or sketchbooks. In the factory, they take the question of sustainability very seriously. All the scrap paper is recycled and returned into the process, as they usually they end up as the backboard of the pads. Thanks to this, their footprint and impact on the environment are rather limited.
The Research Lab
The factory has a research laboratory, where all the magic happens, and the ideas are being tested and bought to life. Imagine a room with all kinds of paints, pigments, papers, chemical solvents, jars, tubes, etc. Here they use the equivalent machines as on the shop floor, just their miniature version. The only exception is the mixer. For that, they use a regular dough kneading machine, because it imitates perfectly the big machine's functionality.
The lab is kind of a paint-making playground. We had a chance to learn more about pigments with various binders and watched how a new colour is being made by mixing together different colours.
Paint Quality Control and Testing
The demonstrations continued in the studio by Steve, the quality controller I mentioned earlier. As his job is to make sure the paints are perfect in their final stage, he knows everything about them. Literally everything, because the quality control at Daler-Rowney is done by humans. To make sure about the paint's quality they need to use their vast knowledge, their senses and the expertise they accumulated over decades. A machine simply isn't good enough to do this job. So anytime you open a Daler-Rowney tube of paint, you can be sure that it was tested and approved by a human being, possibly Steve. If you're not happy with its quality, just let them know the batch number printed on the tube, and they will investigate it for you. Because they keep a sample from each batch they produce. This way they can track back the paints for many years. How cool is that!
Steve showed us how the paint is being tested. First, they do a spread test, then a dispersion test, and finally, they time how long it takes for the paint to dry to the touch. He talked about the history of paints and showed some samples as well. Did you hear about Mummy Brown? Yes, it was made exactly of that: the flesh of mummies mixed with white pitch and myrrh. Or the Indian Yellow, which was prepared from the urine of cows fed only mango leaves. The yellow pigment was refined by heating the liquid and kneaded into round balls. I told you, he knows everything about pigments and paints. You should see his eyes sparkling when he is talking about them.
Making Art
After a nice break with refreshments, we jumped into the art session carried out by Jenny Muncaster, one of the Daler-Rowney artists. During her demonstration, she showed some interesting techniques using different products, from the System3 acrylic range. It was amazing watching her put her knowledge playfully into practice. She created some impressive artworks in a matter of minutes. Her energy was contagious, which we needed in the last part of the day. We got the chance to play and test all kinds of products provided on the tables. I spent some time getting to know better the acrylic paints, which I rarely used before. My initial plan was to create an artwork, but I realised that I should move on to other products because there was a lot to test and experiment with. Jenny was kind enough to show some tricks with some other products, like Aquafine watercolour ink, something I never used before.
After this intense practical session, we had one more task to do: pick up whatever supply we needed from the giveaway table. Initially, I thought we would be given a goodie bag, but at Daler-Rowney it seems things go a little bit differently. They packed a huge table with all kinds of supplies: oil paints, acrylic paints, watercolour sets, sketchbooks, sketching pads, and all sorts of art kits. You know, those items on your Christmas wish list.
Overwhelmed by their generosity, I selected some products I thought I might need in the future and some I wanted to test. If you have seen a person happily carrying a box full of art materials on the streets of Bracknell, that was just me. I could carry that box to the moon and back to be honest, because this year Christmas came early for me.
It was a brilliant day and I would like to thank this way to the whole team, all nice people, from Daler-Rowney, who made possible this factory visit. They didn't ask us to blog about this event or even post on social media for that matter. This is just my way to say thank you for this beautiful experience, all that an artist can wish for. I'm really thankful I was part of it. The takeaway of the story, I think, is this: if you see an announcement with a factory visit opportunity from Daler-Rowney, don't think twice, just apply. One day you could get the chance to visit their factory.