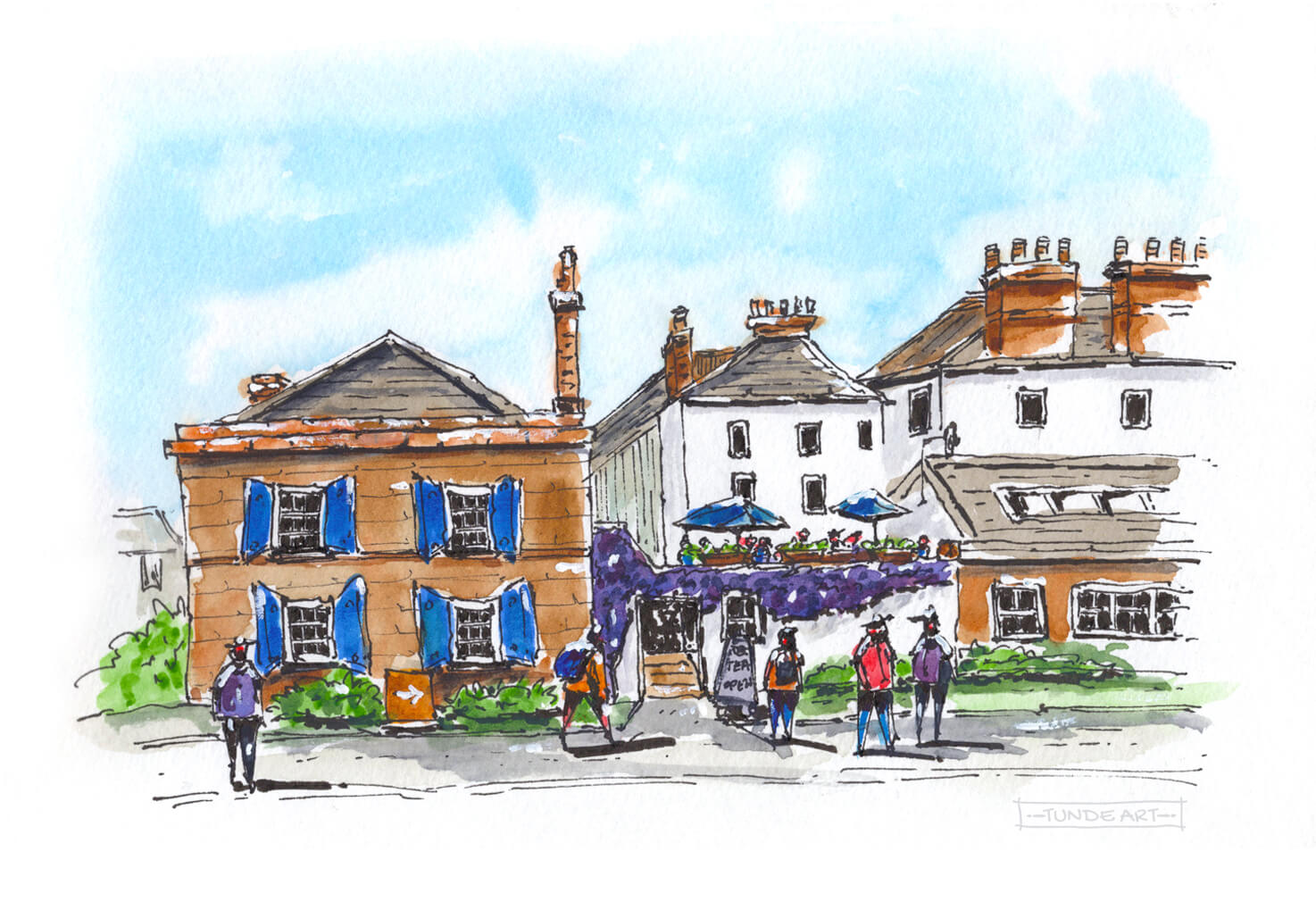 I like to take photos, although I'm not a professional photographer. Sometimes I care about composition, light, position and all these technical matters. Sometimes when I see something that catches my eyes, which might be interesting for later, I just capture it. In the latter case, it doesn't matter if the lighting or the composition is terrible. It is only useful to have it in my photo gallery for later use.
After taking a course about the essentials of urban scene drawing, I thought it might be a fun project to choose some "bad" photos from my photo gallery and turn them into urban sketches. I chose pictures mostly from my holidays. During the drawing process, I recalled many beautiful memories of those places. Besides, I had fun during the process, it was a great way to practice what I learned during the course. Below I'm sharing the sketches together with the original photo. This illustrates how a little bit of colour and human figures can add playfulness and life to an urban scene.
Three Roofs Cafe in Castleton, Peak District
Surrounded by stunning scenery, this cosy cafe caught my attention because the roofs look funny with those little light bulbs. I wanted to capture the whole atmosphere in this sketch, so I included the nearby stone cottages, the hills and trees in the background, and the tourists hanging around.
Town Square in St Just, Cornwall
It was a Saturday morning when we arrived in this little town after visiting Cape Cornwall. The locals were on their usual shopping tour, and the city centre had that buzzing vibe. The colourful stone buildings added a perfect addition to that friendly small-townish atmosphere.
Dry Dock in Penzance, Cornwall
It was early morning when we were heading to Saint Michael's Mount. These ladies, who just finished their morning swimming routine, caught my attention. They were chatting and laughing, and they looked so refreshed. The buildings looked charming as well with those lovely, Cornish colours.
Rosario Tea Gardens Marazion, Cornwall
We had just returned from the Saint Michael's Mount across the road and had only a few minutes to get the bus to take us to the Penzance Railway Station. I spotted this typical Cornish building complex with that purple plant running around the front gate. It was fun to include some human figures in there. They could be tourists, just like we were.
Eastbourne Railway Station
I took this photo minutes before heading to the railway station to catch our train. It was before sunset, and the sunlight lit some areas of the buildings and streets. People were hanging around on the square, they didn't seem in a hurry. Everybody appeared relaxed, and everything looked so peaceful at that moment. I wanted to capture the myriad of colours and shapes this building is composed of.
Donald McIntyre Building, Cambridge
This is one of the most unique architectural structures in Cambridge. It caught my eyes every time I passed by. The rounded, unusual shapes seemed to be a drawing challenge, and I was ready for it. The faculty building was designed by the Building Design Partnership and won an award for Cambridge's most sustainable building.