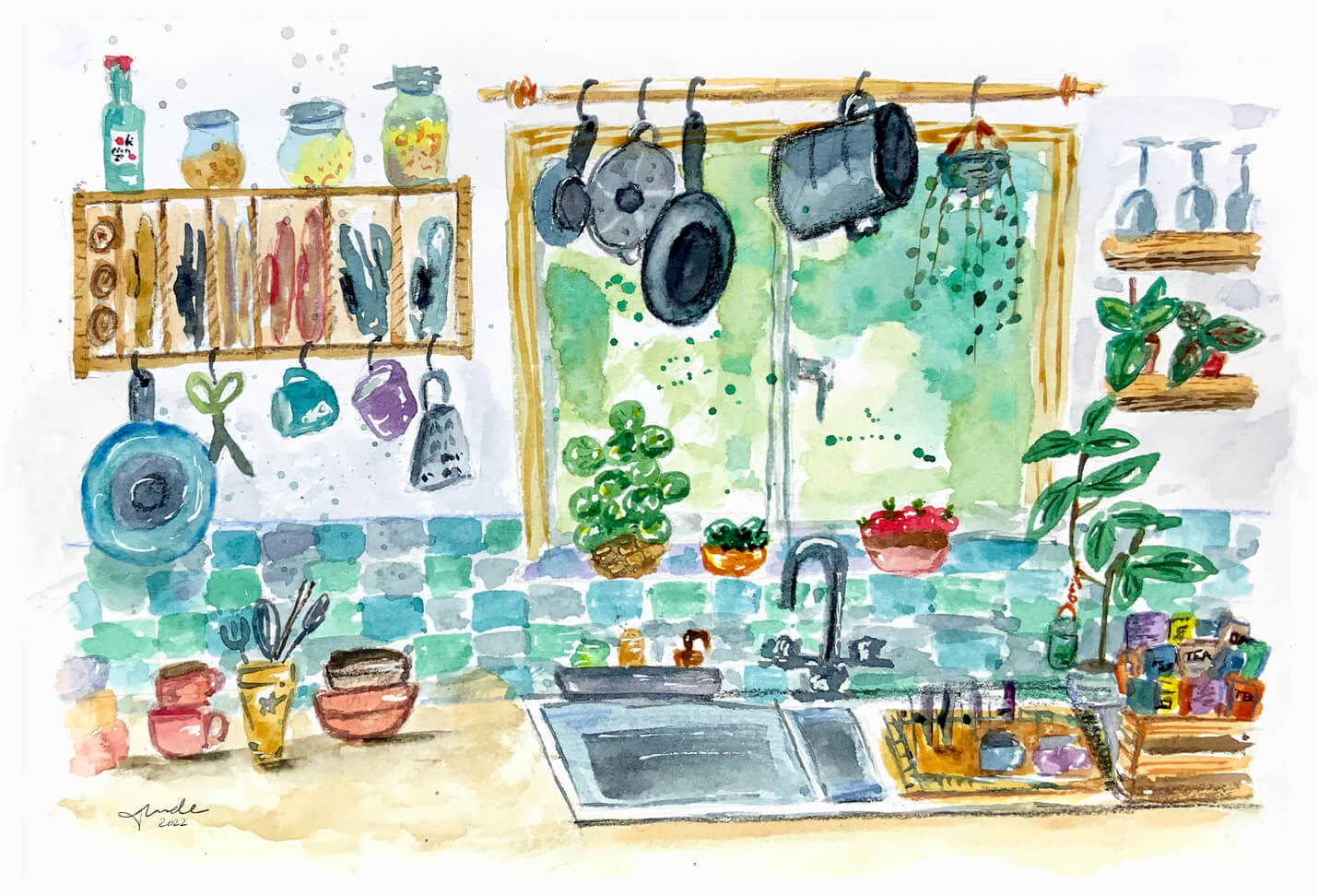 Skillshare Class: Capture the moment in your sketchbook: Playful watercolour sketching by Barbara Luel.
This was an excellent course that reminded me that I can find interesting subjects to sketch in the house as well. In most cases, we just pass by the objects which are with us in our homes, and we don't really see them, just use them. The challenge of this class was to observe and draw a scene from our surroundings. 
The sofa, the plants and the Legos
I couldn't imagine that our sofa could be an ideal subject for a beautiful sketch in my sketchbook. After I sketched it, I couldn't resist creating further drawings of other parts of the house. These sketches can freeze the moment because some objects or plants, in my case, are part of the surroundings only when I create the drawing. I often move my plants or re-decorate the house, so every time it could look a bit different than before. Sketching my plants from time to time is a great way to follow their development. I also found this shelving unit a great subject because now it's the base for our Lego collection, but we might use it for something else in the future.
The kitchen and the view from the window
The kitchen is another great scene to explore for sketching purposes. We got there zillion of little things, which we use from time to time. The window sill and the shelves are ideal spots for some plants and other decorative items. Of course, our mug and tea collection made it into the composition. First, I created a sketch with pen and ink but I overcoloured the view from the window. I also realised that while I focused so badly on drawing every nook and cranny, the whole drawing became overloaded. I decided to re-draw the kitchen, this time using the instructor's technique: drawing and painting simultaneously. It was the first time I created a sketch without pen, but it was deliberating at the same time. I definitely need to practice this technique in the future.
The plants and the watercolour pencils
As probably you realised until now, plants are an essential part of our home. Since the teacher introduced the thumbnail sketches, I thought would be interesting to sketch some of my plants using this layout. Well, some of my ex-plants. At that time I had just downsized my plant collection, and these plants were looking for a new home. While waiting for this, I sketched them, using watercolour pencils for the first time. Because of their small size, thumbnail sketches were ideal for experimenting with watercolour pencils. By doing so, I managed to capture the beauty of these plants so that I can cherish their memory forever.
"Sketching daily empties your head, like a meditation. Sketchbooks are made for sketching. Today is the best day to use them. If you're afraid to use your paper, just start by splashing it.

Barbara Luel